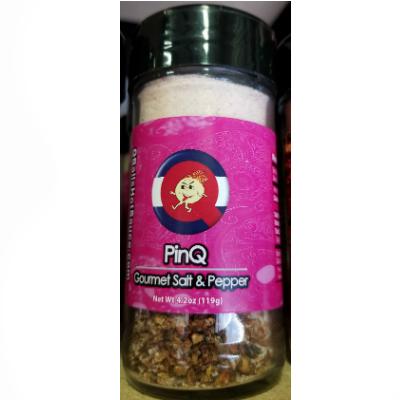 Qball's Hotsauce
PINQ
NET WT 4.20 oz (119 g),
Hot, Heat Index (9/10) 
PinQ is a new take on Salt & Pepper.  The unique taste of Himalayan Pink Sea Salt married to the heat of the World's Hottest Naturally grown chile pepper is really something special.  The Scorpion chile by itself is 5-6 times hotter than a habanero and must be handled with caution and care.  PinQ incorporates just the right amount of this chile into the recipe to let you know it's there, but not so much that you feel like running away!

Gourmet chefs have used PinQ in some of their dishes.  Doctors are "prescribing" PinQ to their friends and family.  The American Cancer Society benefits from every bottle of PinQ sold, as we donate a portion of each sale to them.  We have an ACS Birthday Page, QUAC (Qballers Unite Against Cancer), so we can give others a chance to see more birthdays.
Ingredients:
Pink Himalayan Sea Salt and Trinidad Moruga Scorpion Chiles.
DOES NOT CONTAIN:
*CHOLESTEROL   *

EGGS     *

FAT     *

GLUTEN     *

MILK    

*PEANUTS     *

SEAFOOD     *

SOY     *

WHEAT
Related Products
---