Qball's VOODOO MAGIQ - Cajun Seasoning with Ghost Chile
---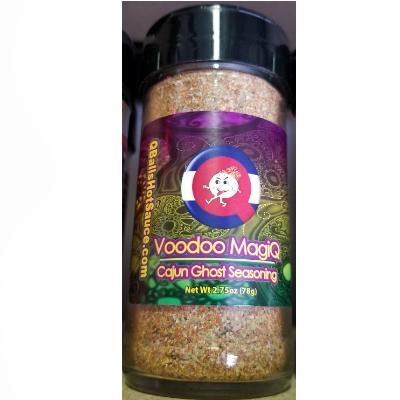 Qball's Hotsauce
VOODOO MAGIQ
NET WT 2.75 oz (75 g),
Hot, Heat Index (12/10) 
Voodoo MagiQ is a Gourmet Cajun Seasoning that brings together the spirit of the Earthy green spices and the Heated red chiles for a real southern style party in your mouth. The Himalayan Pink Sea Salt bridges these flavors together nicely while lending its own unique taste.

If you want to take that Jambalaya up a notch or shake up those hot wings for that special get together, Voodoo MagiQ is a must. What a great gift idea for the Chile Head or Gourmet Cook in your life.
Ingredients:
Himalayan Pink Sea Salt, Garlic, Black Hawaiian Sea Salt, Onion, Thyme, Sage, Oregano, Black Pepper, Cayenne & Bhut Jolokia (Ghost) Chiles.
DOES NOT CONTAIN:
*CHOLESTEROL   *

EGGS     *

FAT     *

GLUTEN     *

MILK    

*PEANUTS     *

SEAFOOD     *

SOY     *

WHEAT
Related Products
---