TORCHBEARER SAUCES, PINEAPPLE - PAPAYA BBQ SAUCE
---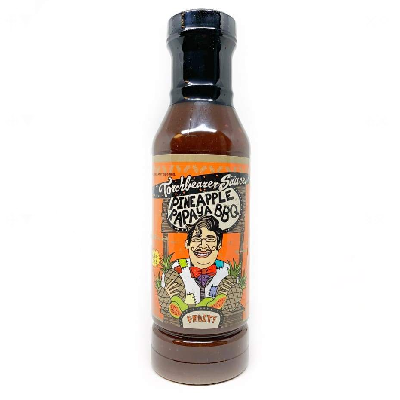 Did someone say luau? Sounds good to us! This BBQ is made with real fruit & spices to give it a full tropical flavor with a big sweet start and a little tang to make any dish scream of the islands. Put it on a burger with a fresh pineapple ring and sweet peppers to make something fit for the gods or even drizzle it over your favorite salad to give it a whole new flavor profile. If you're feeling particularly bold you can dip Asian dumplings and spring rolls into it for a surprising new experience. No matter what, when you use Torchbearer Sauces' Pineapple Papaya BBQ, everyone gets leid.
SIZE: 12 Fl Oz (355 mL)
INGREDIENTS: Tomato, brown sugar, water, pineapple, papaya, honey, apple cider vinegar, molasses, mustard powder, crushed red pepper, salt, chili powder, lemon juice, garlic powder.
Related Products
---