TORCHBEARER SAUCES, OH MY GARLIC SAUCE
---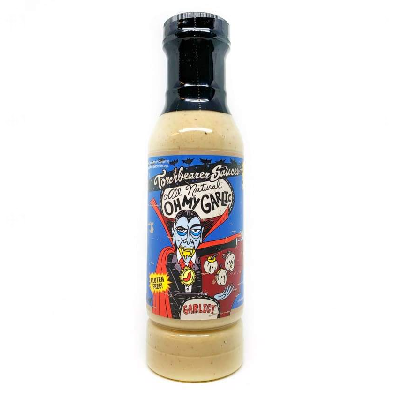 Oh My Garlic ™! Sauce is our BEST SELLER and has been since it's first release in September 2011. You've taken a big step today towards eventual culinary perfection by taking the time to read this. Not only is this the best garlic aioli you'll ever come across but it's also vegan friendly and all natural. You're going to use this in your mashed potatoes, your going to stir fry veggies in it, you'll be throwing it on any type of meat either as a finishing sauce or a delicious marinade, and you'll definitely be topping off your favorite wraps and burgers with it. You're about to make a decision that will change your cooking forever. Good for you!
SIZE: 12 Fl Oz (355 mL)
INGREDIENTS: Garlic, Canola Oil, Lime Juice, Distilled White Vinegar, Dijon Mustard, Water, and Other All-Natural Spices.
Related Products
---