SMALL AXE PEPPERS, GHOST PEPPER Hot Sauce
---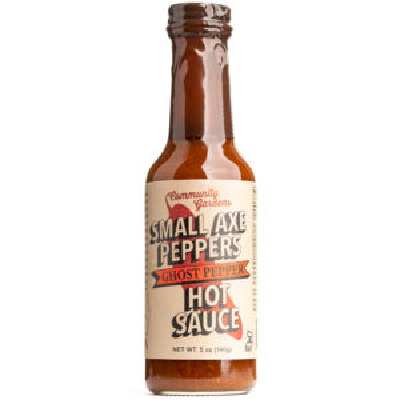 Small Axe's Ghost Pepper Hot sauce will put your Scoville scale limits to the test!
Made with the notorious ghost pepper, this is far the spiciest hot sauce we have ever made! In 2007, the ghost pepper ranked as the the world's hottest chili pepper. With a Scoville score of 1,041,427 SHU, it is about 400 times hotter than Tabasco sauce, about 200 times hotter than a jalapeño pepper, and about 6 times hotter than a habanero pepper.
So just how hot is a ghost pepper? Well, not only do they put other popular peppers — jalapeños and habaneros — to shame but also they are hot enough to fend off elephants, control civilian riots, and even kill you.
Oh, and did we mention that one time a ghost pepper burned a hole in a man's throat? That's right, after biting into a burger smothered with a ghost-pepper puree, the man began to vomit and gasp for air. An ambulance rushed him to the hospital, where he wasn't discharged until 23 days later with a gastric tube.
More than Just Ghost Pepper Spice
Of course, just because this ghost pepper hot sauce is spicy doesn't mean we skimped on delicious flavor. Quite the contrary as it's just as flavorful as it is spicy. The freshly ground chipotle powder adds a smoky dimension that masterfully neutralizes the ghost pepper spice. This bottle full of flavor and sting will be the perfect addition to a spicy seafood gumbo or any other slow cooked meal that needs a little extra spice!
Ghost Peppers with a Purpose
Small Axe Peppers Ghost Pepper Hot Sauce is made with peppers are sourced from community gardens and urban farms in cities across the United States. San Diego, Tucson, Phoenix, Salt Lake City, Sacramento, Charlottesville, and many more have all sold peppers at premium prices to Small Axe Peppers Hot Sauce.
Heat Level: Extra Hot 
SIZE:  NET WT 5 Oz (140 g)

INGREDIENTS:  Apple Cider Vinegar, Habanero Peppers, Sugar, Tomato Paste, Mango Puree, Carrot, Chipotle Powder, Salt, Ghost Pepper Powder.
Related Products
---