Qball's SQEET - Gourmet Mesquite BBQ Rub
---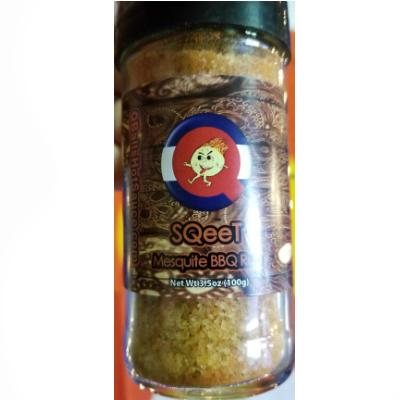 Qball's Hotsauce
QILLER BUZZ
Gourmet Honey Mustard BBQ Rub
NET WT 3.5 oz (100 g),
Medium, Heat Index (6/10) 
Upon your first taste, you may think to yourself, "mmmmm. BBQ Chips!"  Well, run with that.  This stuff is excellent on Skillet Fried Potatoes and Onions.  Popcorn is even more irresistible, but don't blame us if they take it from you while trying to sneak it in the theater!
Ingredients:
Turbinado Sugar, Alaea Red Hawaiian Sea Salt, Chipotle & Cayenne Chiles, Paprika, and Mesquite.
DOES NOT CONTAIN:
*CHOLESTEROL   *

EGGS     *

FAT     *

GLUTEN     *

MILK    

*PEANUTS     *

SEAFOOD     *

SOY     *

WHEAT
Related Products
---