PEPPER NORTH ARTISAN FOODS, NORTHERN LIGHTS Hot Sauce
---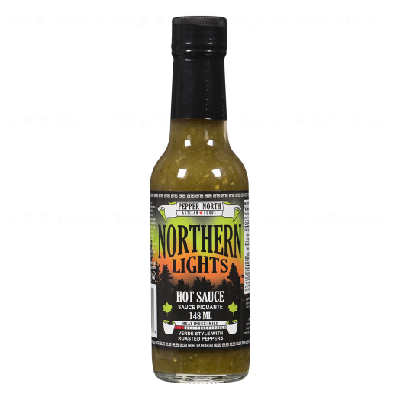 VERDE STYLE WITH ROASTED PEPPERS
HEAT INDEX: MILD (2/10)
SCOVILLE RATING: 3510

Pepper North treks deep into the Canadian Arctic in search of the ever-elusive and awe-inspiring Northern Lights. For thousands of years and throughout hundreds of cultures there have been many myths and mysteries surrounding the Aurora Borealis. This Mexican-style verde sauce features tomatillos, green jalapeno, poblano, and habanero peppers along with pure Canadian apple cider and maple syrup. Try it on tacos, nachos, pizza, eggs, grilled cheese sandwiches and other foods that need a tangy zing.

Pairing Suggestions: Tacos, nachos, pizza, eggs and grilled cheese sandwiches.
SIZE: 5 Fl Oz (148 mL)
INGREDIENTS:  Tomatillos, Roasted Green Peppers (jalapeno, poblano, habanero), Apple Cider, White Wine Vinegar, Onions, Lime Juice, Garlic, Sugars (maple syrup), Sea Salt, Cilanto, Cumin
MADE IN CANADA | All Natural | No Preservatives| Gluten Free | Vegan | Dairy Free