PAIN IS GOOD JERK Wing Sauce
---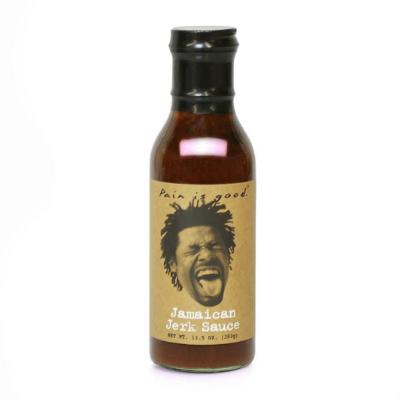 Screamin' Joe wants to take you to the island of Jamaica with his Jamaican Jerk sauce.  So grab your Jerk wings, lie back in your hammock and enjoy the island breeze.
Size:
Net Wt 13.5 oz (382 g)
Ingredients:
Ketchup, brown sugar, apple cider vinegar, canola oil, extra virgin olive oil, Red pepper sauce, distilled vinegar, corn starch, Worcestershire sauce, Black pepper, jerk seasoning, salt, Cayenne pepper, garlic powder, lemon juice concentrate, onion powder, spices.
ALLERGEN WARNING: CONTAINS SEAFOOD (anchovies)
CAUTION: Avoid contact with eyes and sensitive areas. Keep away from children and pets! USE RESPONSIBLY!!!
Related Products
---