PAIN IS GOOD GHOST-UJANG Hot Sauce
---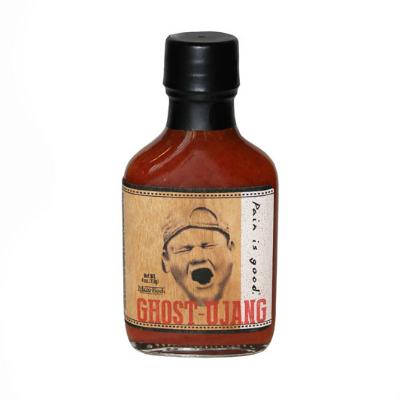 Fiery fermented fun brewed in 68 gallon pots packed with Ghost and Gochugaru Chilies. Intensely hot and savory flavors taste like eating the world's most delicious mouthful of ninja stars!
Size:
Net Wt 4 oz (113 g)
Ingredients:
Ghost Pepper Mash (ghost chile Peppers, salt), Cane Sugar, Water, Organic Soy Sauce (water, organic soybeans, salt, organic alcohol), Rice Vinegar, Spice, Garlic, Sesame Oil, Gochugaru Chile Flakes, Salt, Garlic Powder.
ALERGEN WARNING: CONTAINS SOY 
CAUTION: Avoid contact with eyes and sensitive areas. Keep away from children and pets! USE RESPONSIBLY!!!
Related Products
---