OLE RAY'S, APPLE CINNAMON BBQ Sauce
---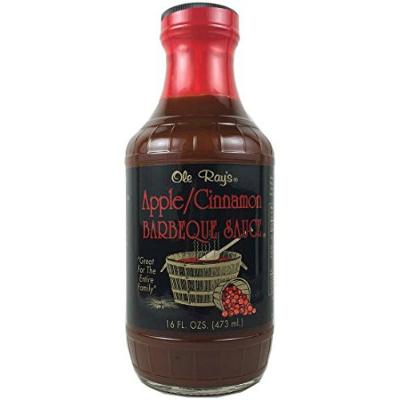 Apple/Cinnamon Barbeque Sauce
Apple/Cinnamon is a mild tomato based BBQ sauce with just the right blend of apples and cinnamon. You will love it in baked beans, on pork, ribs and chicken.
 SIZE: 16 Fl Oz (473 mL) 
INGREDIENTS: Tomatoes, Apple Jelly, Lemon Juice, Apple Cider Vinegar, Corn Syrup, Molasses, Yellow Mustard, Brown Sugar, Liquid Smoke, Cayenne Pepper, Caramel, Black Pepper, Cinnamon, Garlic Powder, Onion Powder, and Spices.
Related Products
---