merfs, fool's paradise Hot Sauce
---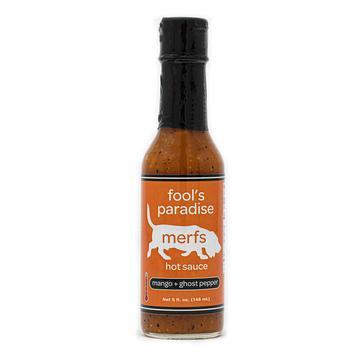 Merfs' hottest hot sauce so far. It's feisty, smoky, and deliciously fiery with a little sweetness from the roasted red bell peppers and fresh mango. Even though it contains ghost pepper, this sauce is not nuclear. 
SIZE:  5 fl oz
HEAT LEVEL: Hot 8/10
Pairings: Fire up hummus. Curry. Add a kick to soup. Marinate Tofu. Chicken Wings. Pork Tenderloin.
Dietary Notes:Gluten Free, Vegan, Whole 30, Paleo, Sugar Free, Preservative Free
Ingredients: red bell pepper, mango, mango nectar, white vinegar, garlic, salt, ghost pepper
Related Products
---