MELINDA'S, RED SAVINA Hot Sauce
---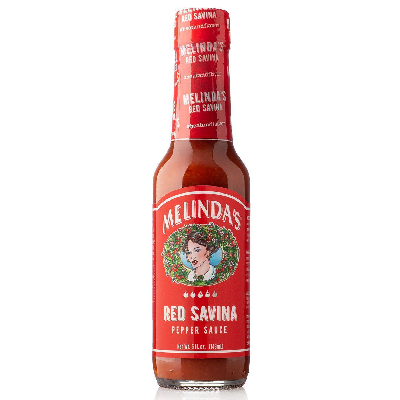 You want fire? That's easy. Anyone can strike a match, but few can strike a balance. A balance where heat and flavor find themselves on equal footing. At Melinda's, we pride ourselves on striking that perfect balance in every sauce we make. Get ready to set your mouth on flavor.
Melinda's Red Savina. Say hello to our lady in red. At 675,000 Scoville units, our red savina chiles are twice the heat of our hottest Habaneros for a distinct fiery flavor. Made the Melinda's way: with whole, fresh ingredients and the best peppers on the planet for people who care about those kinds of things. Great for adding a chile-forward burst of heat to all foods.
Heat Level:  
INGREDIENTS: 
 Red savina pepper mash (water, red savina pepper), carrots, vinegar, onion, lime juice, garlic, citric acid, xanthan gum.
Allergy information: May contain traces of tree nuts (coconut), egg, soybeans, wheat, milk.
CAUTION: Avoid contact with eyes and sensitive areas. Keep away from children and pets! USE RESPONSIBLY!!!
Related Products
---