MELINDA'S, NAGA JOLOKIA Pepper Sauce
---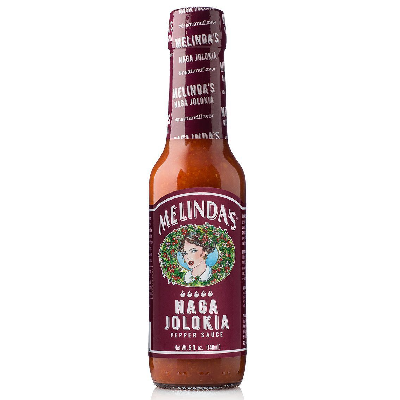 You want fire? That's easy. Anyone can strike a match, but few can strike a balance. A balance where heat and flavor find themselves on equal footing. At Melinda's, we pride ourselves on striking that perfect balance in every sauce we make. Get ready to set your mouth on flavor.
Melinda's Naga Jolokia. Naga is a close relative to our ghost pepper sauce, crafted with Naga Jolokia peppers from the state of Nagaland in India. It is hot, like over 1 million Scoville units hot. Made the Melinda's way with whole, fresh ingredients and the best peppers on the planet. Perfect on practically everything serious Chileheads eat.
Heat Level: 
INGREDIENTS: Habanero pepper mash (water, Habanero pepper), carrots, Naga Jolokia pepper, onions, lime juice, garlic, salt, vinegar, citric acid, xanthan gum.
Allergy Information: May contain traces of tree nuts (coconut), egg, soybeans, wheat, milk.
Kosher
Related Products
---