MELINDA'S, 3 PACK - GHOST, SCORPION, XXXX RESERVE
---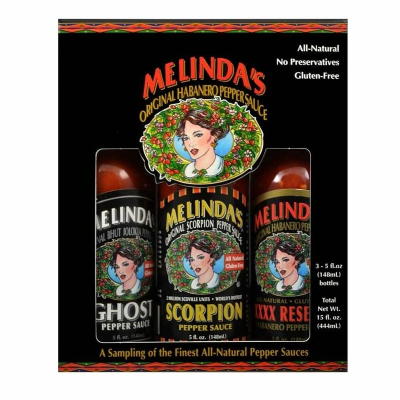 Includes our hottest sauces to date. This 3 Pack includes Melinda's Ghost Pepper Sauce, Melinda's Scorpion Pepper Sauce and Melinda's Original Habanero XXXXtra Reserve Hot Sauce. Sauces are All Natural, contains no artificial preservatives or colors, gluten free, GMO free, Kosher and no high fructose corn syrup.
* Melinda's Ghost Pepper Sauce
The Ghost Pepper or Bhut Jolokia is confirmed by the Guinness Book of Records at 1,041,427 Scoville Units making it one of the hottest peppers on the planet. Melinda's takes this super hot pepper and blends it with fresh all-natural fruits and vegetables to make a pepper sauce that is as delicious as it is hot.
Ingredients: Naga Jolokia Peppers, Carrots, Papayas, Lime Juice, Vinegar, Onions, Passion Fruit, Citric Acid, Garlic, Salt, Xanthan Gum.
* Melinda's Scorpion Pepper Sauce
The Trinidad Scorpion Chile Pepper gets its name because it has a tail that looks like a stinger and a burn that feels like one. At over 2 million Scoville units, the Trinidad Moruga Scorpion is the new World's Hottest. Melinda's Scorpion is our take on this sinister beast, we coupled it with our vegetable-base to balance the heat and flavor, however, that is a tall order with the savage heat of this unruly pepper.
Ingredients: Trinidad Moruga Scorpion peppers, Fresh carrots, onions, lime juice, vinegar, garlic, and salt.
* Melinda's XXXXtra Reserve Hot Sauce
From time to time, optimal growing conditions can produce Habanero crops that yield extremely fiery chiles, Melinda's ages these select chiles to make our new XXXXtra Hot Reserve. It is made with the same fine ingredients present in our famous Original Habanero Recipe. This is the hottest Melinda's. Limited Quantities available.Naturally hot, vegetable base
Ingredients: Hand select choice red habanero peppers, fresh carrots, onions, lime juice, vinegar, garlic, and salt
Related Products
---