MAGIC PLANT FARMS, SCORPION PEPPER MASH PUREE
---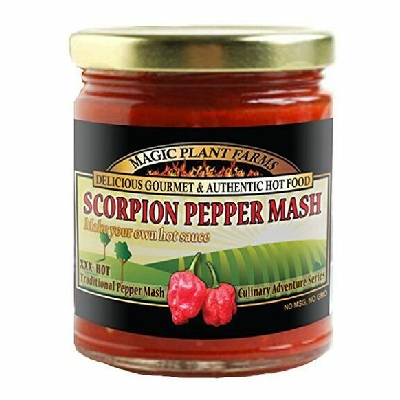 Have you ever tried to make your own hot sauce at home and it never has that great taste of your favorite store-bought sauces? That's probably because you aren't using an aged pepper mash as your base. To make this specialty product, they take fresh Scorpion Peppers (the second hottest on Earth), mix them with salt, and ferment them over time. Then, the aged peppers are blended to a thick puree and mixed with a little citric acid to keep it all shelf stable. It tastes great all by itself, or mixed with ingredients of your choosing to create a homemade hot sauce, spicy barbecue sauce, etc.
No MSG
No GMO
100% All Natural.
Heat Level: 10+/10 
SIZE:  Net Wt 9 Oz (255 g)
INGREDIENTS: Moruga Scorpion Peppers, Salt, Citric Acid.