Dave's Gourmet Ultimate Insanity Sauce
---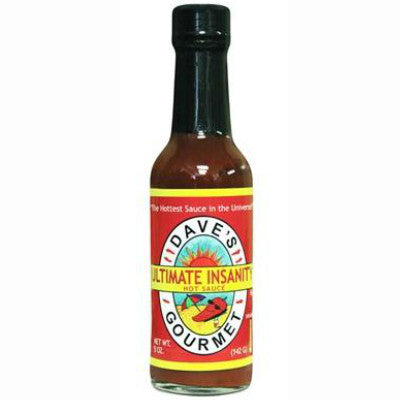 Ultimate Insanity offers a heat experience that is even hotter than Insanity, yet doesn't back down in flavor. Jamming smoky Red Savina Habaneros into his original Insanity, Dave has crafted a sauce that will blow your mind and burn your taste buds. Experience your chili, wings, burgers, and pizza one drop at a time with insane heat and ultimate flavor.
Size:
5 fl oz
Ingredients:
All Natural • No Preservatives • No Artificial Colors or Flavors • Low Fat/Sodium • Gluten Free
Red habaneros, hot pepper extract, red chiles, tomato paste, salt, onions, cane vinegar, acetic acid, garlic, vegetable oil, xanthan gum, citric acid.
Related Products
---