ANGRY GOAT, SWEATY BEAVER Hot Sauce
---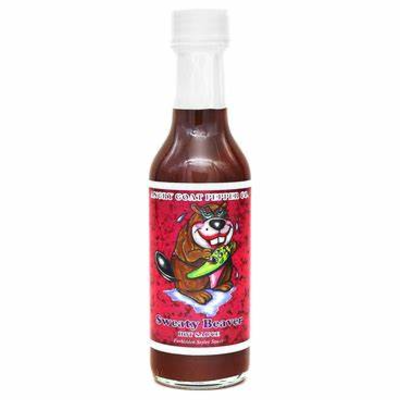 Sweaty Beaver Hot Sauce is a taco style sauce that combines super hot peppers with smoked maple syrup and cumin. This sauce will make you sweat in all the right places and your mouth drip with anticipation. Have you had your dose of Sweaty Beaver today? Try Sweaty Beaver on steak, chicken, eggs, pizza, or Mexican cuisine.
HEAT LEVEL: HOT 8/10
SIZE: 5 Fl Oz (148 mL)
INGREDIENTS: Chile Pepper Blend (Chocolate Habanero, Moruga Scorpion, Red Bhut Jolokia (Ghost), Dried New Mexican Red Chile), Apple cider Vinegar, Water, Lime Juice, Lemon Juice, Smoked Vermont Maple Syrup, Granulated Garlic, Sea Salt, Smoked Paprika, Cumin.
Related Products
---