ANGRY GOAT, SACRIFICE Fire-Roasted Habanero Sauce
---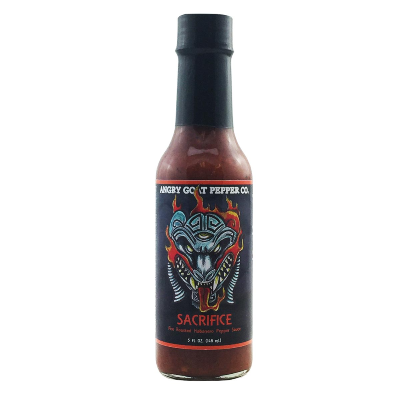 The Habanero Pepper originated in Central America and was cultivated by the Mayan and Incan civilizations. The Mayans were also known for their human sacrifices.

This sauce will tantalize your taste buds before it sets you on fire with a fierce, fire roasted habanero burn, making you wish that you were the one being sacrificed. Xibalba, the Mayan underworld, awaits you.

Try "Sacrifice" on burgers, eggs, in chili, on pork, or in a stir-fry.

HOT 6/10

THIS IS THE SAME SAUCE AS THE "CONNIPTION FITS....OF THE MOUTH."
SIZE: 5 Fl Oz (148 mL)
INGREDIENTS: Fire Roasted Orange Habanero Peppers, Red Bell Peppers, Apple Juice, Apple Cider Vinegar, Water, Fire Roasted Poblano Peppers, Pure Vermont Maple Syrup, Bhut Jolokia (Ghost) Peppers, Olive Oil, Dried New Mexican Red Chiles, Fresh Ginger, Lime Juice, Gluten Free Soy Sauce (Water, Soy Beans, Rice, Salt.), Granulated Garlic, Smoked Habanero Powder, Sea Salt.

**Shake Well, Refrigerate After Opening**
Related Products
---