ANGRY GOAT, HOT COCK Hot Sauce
---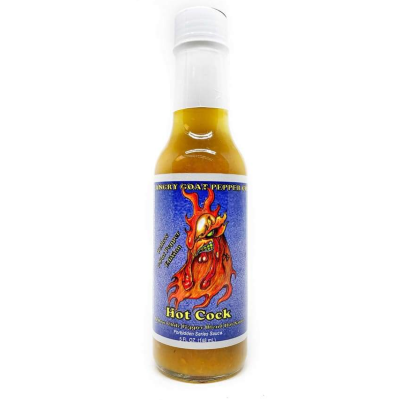 Hot Cock Hot Sauce combines a blend of fantastic tasting yellow chile peppers and just the right amount of peaches to create a super hot yet flavorful sauce. This sauce will make you crow with ecstasy and your mouth throb from the ample levels of heat. Try Hot Cock on chicken, fish, shrimp, ice cream or anything else you can imagine.
HEAT LEVEL: HOT 11/1O
SIZE: 5 Fl Oz (148 mL)
INGREDIENTS: Yellow 7-Pot Pepper Mash (Yellow 7-Pot Peppers, Distilled Vinegar), Lime Juice, Yellow Scotch Bonnet Pepper Mash (Yellow Scotch Bonnet Peppers, Distilled Vinegar), Habanero Peppers, Peaches, Agave Nectar, Water, Yellow Bell Pepper, Lemon Drop Peppers, Apple Cider Vinegar, Yellow Bhut Jolokia (Ghost) Peppers, Sea Salt.
Related Products
---