ANGRY GOAT, CHERRY CHIPOTLE BBQ Sauce
---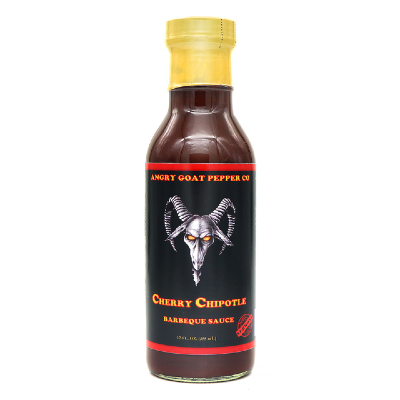 Our Cherry Chipotle BBQ Sauce is a thick, savory, and fruit-filled sauce that will compliment any meat or meal. The complex, dark notes of the cherries, and slight smokiness of the Chipotle, give way to the finish of raisins, with a savory kick. Try on ribs, chicken, mac 'n cheese, burgers, or smoked brisket.
Allergen warning - contains fish (anchovies), wheat, and soy. 
SIZE: 12 Fl Oz (355 mL)
INGREDIENTS:  Tomato Paste, Brown Sugar (Cane Sugar, Molasses), Tart Red Cherries, Apple Cider Vinegar, Water, Worcestershire Sauce (Distilled White Vinegar, Molasses, Sugar, Water, Salt, Onions, Anchovies, Garlic, Cloves, Tamarind Extract, Natural Flavorings, Chili Pepper Extract), Pomegranate Juice, Chipotle Powder, Raisins, Soy Sauce (Water, Wheat, Soybeans, Salt, Sodium Benzoate: Less than 1/10th of 1% as a preservative), Sea Salt, Smoked Paprika.
CONTAINS FISH (ANCHOVIES), WHEAT AND SOY. 
Related Products
---