Qball's BRIQ - Exotic Salt & Super-Hot Pepper
---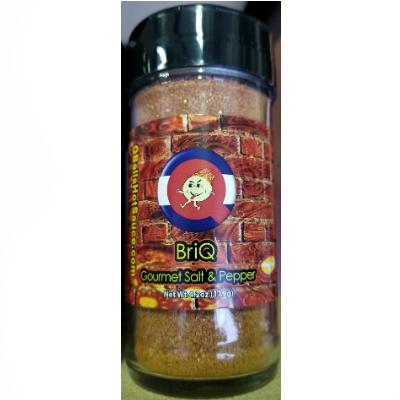 Qball's Hotsauce
BRIQ
NET WT 4.20 oz (119 g),
Hot, Heat Index (10/10) 
BriQ is a perfect blend of sweet, salty, and heat.  The Red Hawaiian Sea Salt, also called Alaea, is composed of over 80 different minerals that no other salts provide and lower in sodium than traditional salts.  The Guinness World Record holder, Carolina Reaper, lends its chocolate and cherry undertones to the sweet up front taste and blazing throat burn which can be over 2 Million Scoville Heat Units.  Use like you would a traditional table salt when you want just a little kick to your meal.
Ingredients:
Alaea Red Hawaiian Sea Salt and Carolina Reaper Chiles.
DOES NOT CONTAIN:
*CHOLESTEROL   *

EGGS     *

FAT     *

GLUTEN     *

MILK    

*PEANUTS     *

SEAFOOD     *

SOY     *

WHEAT
Related Products
---