BOURBON Q, Churchill Downs, GOLD RESERVE Roasted Garlic & Chipotle Kentucky Bourbon BBQ
---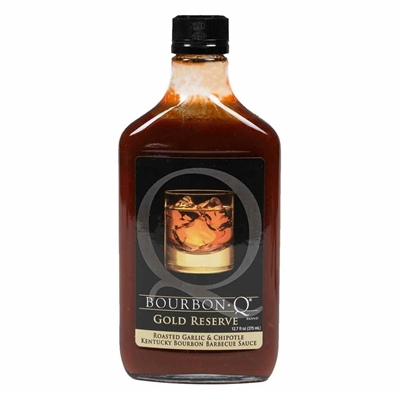 Bourbon Q Gold Reserve Roasted Garlic and Chipotle Kentucky Bourbon BBQ Sauce, 12.7oz.: A cherished classic in its own right, BourbonQ Gold Reserve is not for the faint of heart. Although not classified as hot, it definitely holds its own. Bourbon Q Gold Reserve Barbecue Sauce is robust in its base of tomato and worcesterchire with a flavor that will be fighting for your attention. The smoky note and heat of chipotle merge and vie for your attention over the hearty flavor of roasted garlic. Bourbon Q Gold Reserve is an absolute necessity when the spice of life is called for. Barbecue chicken will never be the same.
SIZE:  12.7 Fl Oz (375 mL)
INGREDIENTS: Tomato Sauce, Vinegar, Sugar, Red Wine Vinegar, Molasses, Hot Sauce, Fresh Garlic with Oil, Fresh Onion, Spices, Modified Corn Starch, Paprika, Worcesterchire Sauce, Natural Hickory Flavoring, Chipotle Pepper, Cured Anchovies with Salt, Aged Kentucky Bourbon.