BORN TO HULA, HARVEST PUMPKIN DATIL Hot Sauce
---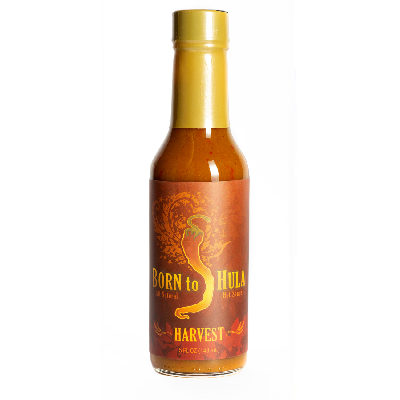 Enjoy this Fall Season with all the flavors of Fall!

Made with Pumpkin, Apple Juice, Brown Sugar, Apple Cider Vinegar, Lemon, Devil's Tongue Peppers, Cinnamon, Ginger and Nutmeg.

Each season we bring awareness not only to different peppers but also to the grower / farmer who's hard work brings us these peppers. This year's pepper "Devil's Tongue" will be harvested by Revels Pepper Company East Palatka, Florida!

Celebrate this festive time of year and enjoy our Harvest!
Suggested on: Brownies, Chili, Ice Cream, Sweet Potatoes, Coffee & much more!
SIZE: 5 Fl Oz (148 mL)
INGREDIENTS: Apple Juice Concentrate, Ascorbic Acid), Light Brown Sugar (Cane Sugar and Molasses), Apple Cider Vinegar, Lemon Juice, Devil's Tongue Peppers, Cinnamon, Salt, Ginger, Nutmeg 
Related Products
---