BEE STING, MANGO PASSION Pepper Sauce
---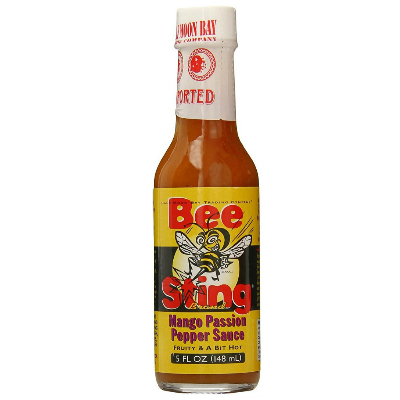 The passions of the islands come alive in this sweet and fruity pepper sauce infused with a wee bit of habanero heat. Mango, papaya and passion fruit are blended in a honey base with a wonderful hint of exotic spices to bring out the best in your most treasured meat and seafood dishes. Fruity, spicy, flavorful and fabulous. Mix Mango-Passion Pepper Sauce with some light libations, the sweet 'tink of island drums and just the right company and -- well, my goodness, the possibilities are endless.
SIZE: 5 Fl Oz (148 mL)
INGREDIENTS: Tomato Puree, Water, Mango Puree, Passion Fruit, Cane Sugar, Honey, Corn Vinegar, Corn Starch, Habanero Peppers, Salt, Allspice, Cloves, and 1 percent sodium benzoate and vitamin C as preservatives.