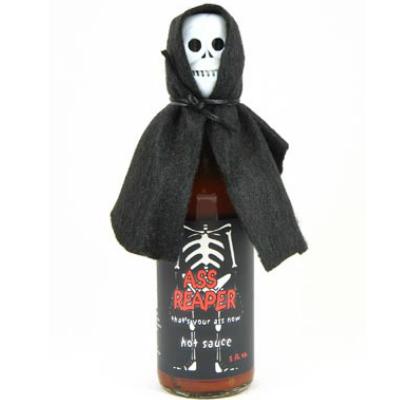 Simply put, Ass Reaper Hot Sauce is so extremely hot that you will wish you were dead after taking just one taste. The pure pepper extract (African oleoresin) is probably what reaps your insides from top to bottom, but those Habanero and Scotch Bonnet peppers have their roles to play in the pain as well. This hot sauce comes in a collectible bottle with a skull and cape that's almost cute. But after ingesting a drop or two of this hot sauce, you'll be wishing you never met the Ass Reaper.
SIZE: 5 Fl Oz (148 mL)
CAUTION: Avoid contact with eyes and sensitive areas. Keep away from children and pets! USE RESPONSIBLY!!!
INGREDIENTS: Habanero Peppers, Water, African Oleoresin, Scotch Bonnet Peppers, Salt, Onion, Vegetable Oil, Acetic Acid, Garlic and Xanthan Gum.