ASS KICKIN', 4 PACK XTREME HOT SAUCE MINI , Devil's Revenge - Spontaneous Combustion - Ass Blaster - Hot Sauce From Hell
Southwest Specialty Food, Inc.
---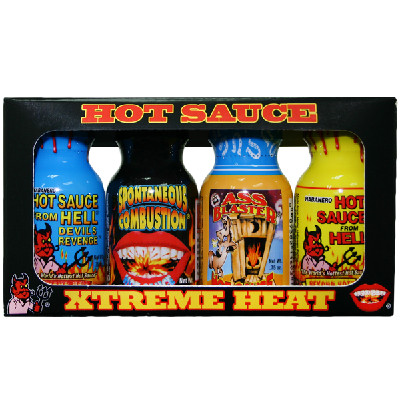 Get four of our Travel Size Xtreme Hot Sauces in this four pack. Perfect for a gift or to go in your spice rack.
Four .75 oz. bottles of: Habanero Hot Sauce From Hell, Ass Blaster Hot Sauce, Spontaneous Combustion, Devil's Revenge Hot Sauce From Hell
Take these extremely hot mini bottles anywhere you go!
SIZE:  4 X 0.75 Fl Oz
INCLUDES:
• Habanero Hot Sauce From Hell
• Ass Blaster Hot Sauce
• Spontaneous Combustion Hot Sauce
• Devil's Revenge Hot Sauce From Hell
Related Products
---