ANGRY GOAT, YELLOW FLAMINGO Mango-Banana-Habanero Hot Sauce
---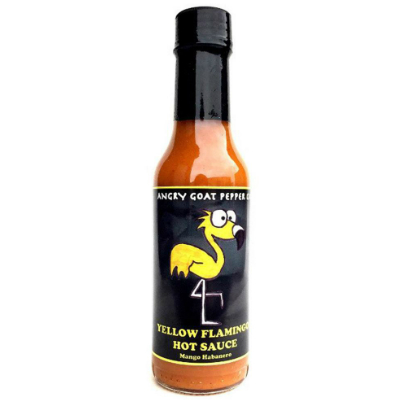 Angry Goat Pepper Co., makes all their products in small, handcrafted batches in Vermont.
"Yellow Flamingo" is a light citrus based sauce featuring mangos with a hint of banana. Orange Habanero Peppers give this sauce just the right amount of heat - enough to make you dance on one leg twirling a hula-hoop.
Try "Yellow Flamingo" on seafood, poultry, rice, waffles or even ice cream.
SIZE: 5 Fl Oz (148 mL)
INGREDIENTS: Mango, Water, Orange Habanero Peppers, Jalapeno Peppers, Carrots, Apple Juice, Apple Cider Vinegar, Organic Agave Nectar, Red Bell Peppers, Banana, Lime Juice, Cayenne Pepper Powder, Sea Salt, Ground Cinnamon.
Related Products
---