ANGRY GOAT, RED ARMADILLO Taco Style Hot Sauce
---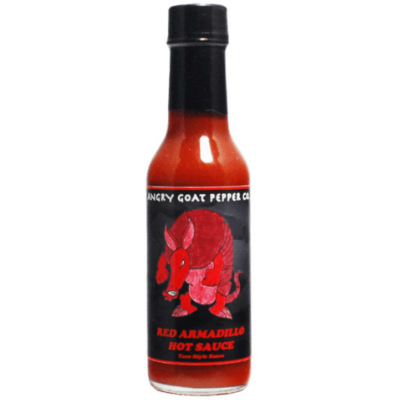 Angry Goat Pepper Co., makes all their products in small, handcrafted batches in Vermont.
"Red Armadillo" Hot Sauce is a taco style sauce that has slightly smoky, slightly sweet, and earthy notes that will surely wake up your food. This sauce fuses the Southwest with the Northeast, combining New Mexican red chiles with real Vermont Maple Syrup.
Try "Red Armadillo" on steak, pulled pork, Mexican cuisine, pizza and eggs.
SIZE: 5 Fl Oz (148 mL)
INGREDIENTS: Water, Pure Vermont Maple Syrup, Apple Cider Vinegar, Lemon Juice, Dried New Mexican Red Chiles, Granulated Garlic, Sea Salt, Smoked Habanero Powder, Smoked Paprika, Cumin.
Related Products
---