ANGRY GOAT, DARK SWIZZLE Hot Sauce
---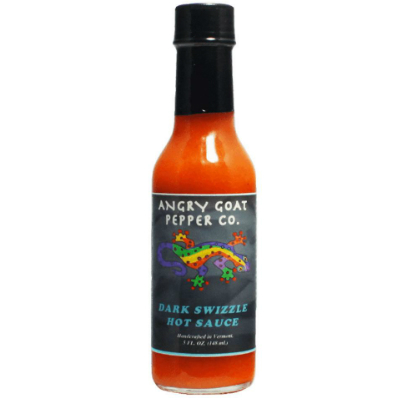 Angry Goat Pepper Co., makes all their products in small, handcrafted batches in Vermont.
"Dark Swizzle" was inspired by the island of Bermuda and two of its' national drinks – Rum Swizzle and the Dark & Stormy. We just added the pepper kick. If you have never been to Bermuda, let this sauce transport you there. This sauce combines citrus, rum, ginger, cloves, and Bhut Jolokia (Ghost) peppers. Try "Dark Swizzle" on shrimp, fish, poultry, pork, or in mixed drinks.
SIZE: 5 Fl Oz (148 mL)
INGREDIENTS: Pineapple, Orange Juice, Orange Habanero Peppers, Gosling's Black Seal Rum, Red Bell Peppers, Pure Cane Sugar, Bhut Jolokia (Ghost) Peppers, Pomegranate Juice, Fresh Ginger, Lime Juice, Sea Salt, Ground Cloves.
Related Products
---