ANGRY GOAT, BLACKBERRY GHOST PEPPER JAM
---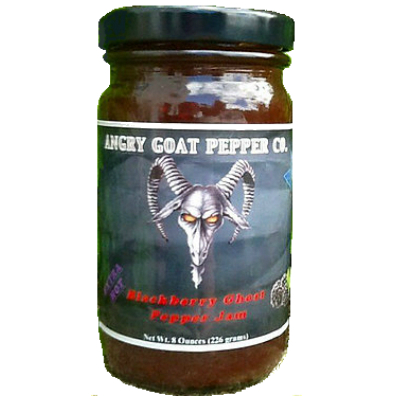 Angry Goat Pepper Co., makes all their products in small, handcrafted batches in Vermont.
The Blackberry Ghost Pepper Jam combines ripe blackberries with a pepper blend including the infamous Bhut Jolokia (Ghost Pepper). This jam has a great combination of heat and flavor. Try Blackberry Ghost Pepper Jam on cream cheese with crackers, over ice cream, or as a glaze on beef.
SIZE: NET WT 8 Oz (226 g)
INGREDIENTS: Pure Cane Sugar, Blackberries, Habanero Peppers, Jalapeno Peppers, Apple Cider Vinegar, Serrano Peppers, Ghost Peppers, Pectin. 
Related Products
---