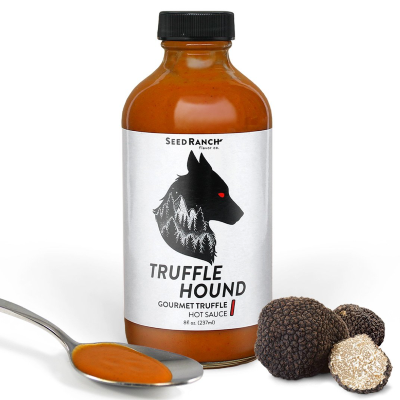 Truffle hot sauce made with real summer truffles. Nothing strange. 
Truffle Hound is a delicious, gourmet sauce featuring a blend of summer truffles, organic chili de arbol and ghost pepper. This sauce has the decadent, rich truffle taste and smooth sweetness of dates. No added sugar, no gums, no colors. Nothing strange. 
Whether it's breakfast, lunch, dinner, or snack time, you'll always find something to put it on. It's that good!
SIZE:  8 Fl Oz (237 mL)

INGREDIENTS:  Crushed Tomato*, Filtered Water, White Vinegar*, Truffle Pepper Blend (Ghost Pepper*, Chile De Arbol, Truffle Juice, Summer Truffles), Salt, Vegetable Fiber, Organic* and Natural Truffle Flavor), Dates*, Tomato Paste*, Garlic*, Olive Oil*, Chickpea Miso*, Sea Salt, Nutritional Yeast, Smoked Paprika, Kelp*, Agar Agar (Sea Vegetables). 
*Organic ingredients
Organic Ingredients, No GMO, Gluten-free, Vegan, No Sugar Added, Paleo Friendly.
Related Products
---