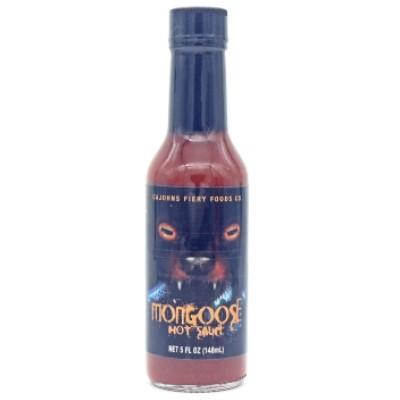 NEW 5 FL OZ SIZE!!
2015 World Champion "Ultra Hot" Hot Sauce Category at the World Hot Sauce Awards!!!
It's kind of like a "kick in the groin". Our longest burn yet! Slow and excruiating. Step up to a mans sauce! Made with Ghost Chiles and Fatalii Chiles.
Heat Level:  XXX Extreme
The mongoose feeds on snakes and this one is no exception.  This sauce is extremely hot combining the Bhut Jolokia chile and the Fatalii chile. This sauce has a strong habanero taste and a long lasting burn. It's a roller coaster of a ride. It takes you up slowly and drops you down slowly.  
Get goosed! 
Need a little more heat...try the BLACK MAMBA!
Size: 5 fl oz
Ingredients:
Fatalii Pepper Mash, Red Habanero Pepper Mash, 3 Million Scoville Oleoresin Capsicum, and Ghost Chili Powder.
Related Products
---